Blog
Thursday 28th April 2022 18:59:00
Saltaire Arts Trail 2022 -- A Sense of Space
Views: 31919
I am delighted that the Arts Trail is returning this year in its physical form with the Open Houses, exhibitions and the Makers Fair. In the past, as a visitor and volunteer, I have always appreciated the idea of exhibiting and celebrating art in such a setting -- removing it from the more formal constraints of an art gallery. This contributes to my belief in art, in its widest possible sense, as a means of enriching everyday life.
My interest in mosaic art has led me to consider how art forms are used in the environments around us and how mosaics are viewed in such spaces. Alongside the designing and creating of my own mosaics my interest extends to how the art form has developed throughout history. In particular, how mosaics have been used in and have enhanced a wide variety of spaces -- homes, religious settings, public building -- the list is endless. Since ancient times they have, in my opinion developed as an art form in a unique way, being both aesthetically pleasing and functional.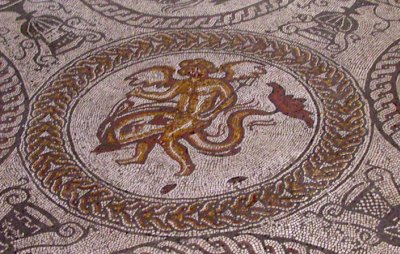 I have been fortunate to have the opportunity to explore examples of mosaics from different historical periods and settings. I have explored Roman mosaics amongst the ruins of Pompeii and at the Roman Palace at Fishbourne. I have discovered beautiful art deco-inspired mosaics hidden away in St George's Church , Jesmond and glowing religious depictions in St Paul's Cathedral, London. Attending Jazz evenings at the Latvian Club in Bradford has surprisingly revealed a striking black and white Victorian mosaic floor. Each visit has left me with the idea of their ability to enhance and help to mould their surroundings.
I feel mosaic art is one of many art forms that allow us to make sense of the space around us. I am glad to be able to have the opportunity to participate in such a unique event. I hope the 2022 Art's Trail is appreciated as making a contribution to the concept of how art can help us to nurture and improve our environment.
---